AMICO Group adopts RISE with SAP to enhance omnichannel solutions for its customers in the MENA healthcare market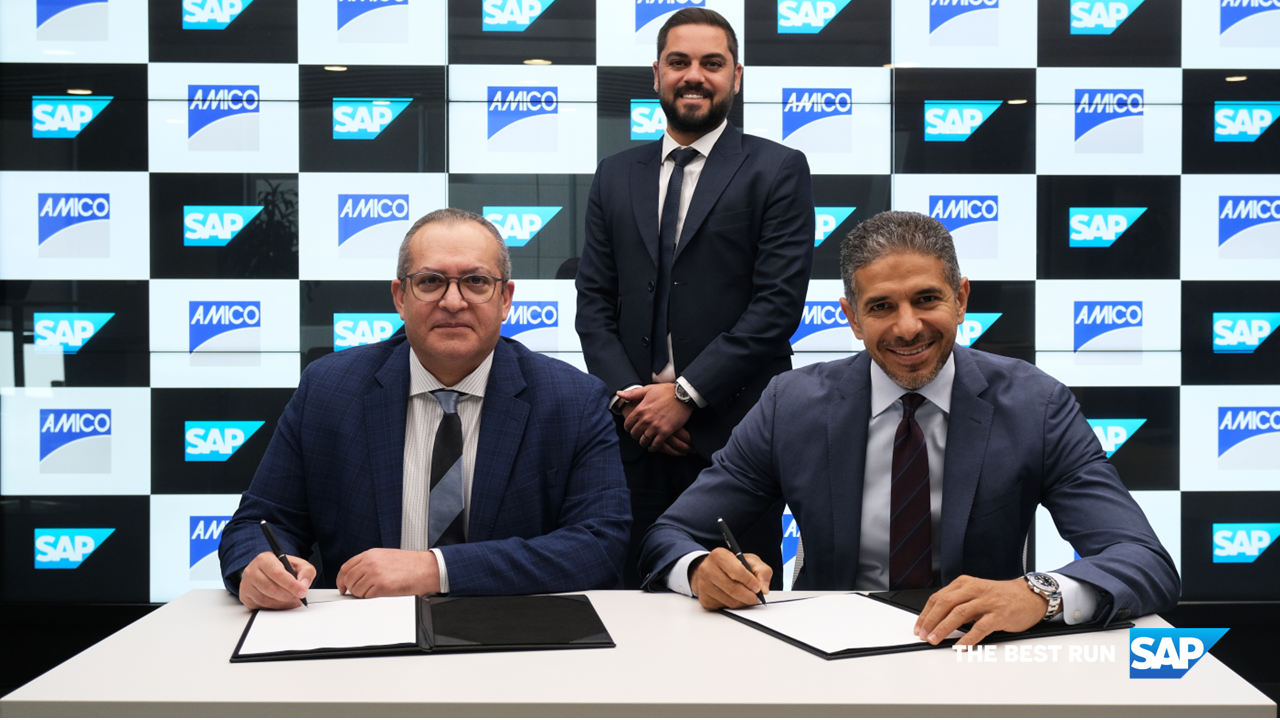 The signing ceremony was attended by (from left) AMICO CIO, Ibrahim Itani, SAP Account Director, Eddy Azar, and SAP Executive Director, Mohammed Hammad.
DUBAI, UAE — 1 May, 2023— AMICO Group, a UAE-based leader in healthcare specialty markets in the MENA region, is continuing its digital transformation journey supported by technology company SAP SE (NYSE: SAP) to enhance its customer experience and engagement through personalized, omnichannel solutions, and to increase agility and enable future expansion plans.
At a signing ceremony attended by executives from both enterprises, AMICO Chief Information Officer, Ibrahim Itani, said, "AMICO continues to experience rising demand for our personalized solutions in MENA's evolving healthcare market and, by leveraging cloud computing, we can respond in an agile way, with improved operational scalability and flexibility. With SAP S/4HANA, Datasphere, and Analytics Cloud (SAC), AMICO will have access to real-time data and analytics to respond to changes in the market and better serve our customers, while simultaneously reducing the complexity of our operations and enhancing our innovation capabilities."
For more information, follow SAP on Twitter at @SAPNews.
-Ends-
About AMICO
AMICO Group, established in 1984 in Saudi Arabia, has emerged as a leading medical device distributor in the MENA region. With a strong presence in 12 countries, the company specializes in 8 key segments which include Orthopedics, Neurosurgery, Ophthalmology, ENT, Dermatology, Optical, Technical Service, and Surgical Therapies.
What sets AMICO Group apart is its commitment to providing not just the latest medical technologies, but also extensive medical education and training to specialists. This ensures that healthcare professionals have access to the latest innovations and can provide the best possible care to their patients. With its focus on technology, education, and innovation, AMICO Group is a trusted partner for healthcare providers in the MENA region."
Our vision is to be the leading medical devices, vision care and aesthetics marketing and distribution company in the MENA region, realizing continuous and sustainable growth, by partnering top tier companies, and employing the brightest talent – to achieve market leadership positions in all specialized segments.
About SAP
SAP's strategy is to help every business run as an intelligent, sustainable enterprise. As a market leader in enterprise application software, we help companies of all sizes and in all industries run at their best: SAP customers generate 87% of total global commerce. Our machine learning, Internet of Things (IoT), and advanced analytics technologies help turn customers' businesses into intelligent enterprises. SAP helps give people and organizations deep business insight and fosters collaboration that helps them stay ahead of their competition. We simplify technology for companies so they can consume our software the way they want – without disruption. Our end-to-end suite of applications and services enables business and public customers across 25 industries globally to operate profitably, adapt continuously, and make a difference. With a global network of customers, partners, employees, and thought leaders, SAP helps the world run better and improve people's lives. For more information, visit www.sap.com.
# # #
This document contains forward-looking statements, which are predictions, projections, or other statements about future events. These statements are based on current expectations, forecasts, and assumptions that are subject to risks and uncertainties that could cause actual results and outcomes to materially differ. Additional information regarding these risks and uncertainties may be found in our filings with the Securities and Exchange Commission, including but not limited to the risk factors section of SAP's 2022 Annual Report on Form 20-F.