Benya Group and SAP Sign a Strategic Partnership Agreement to Deliver SAP Signavio Solutions, Supporting Digital Transformation in Egypt, KSA, and the UAE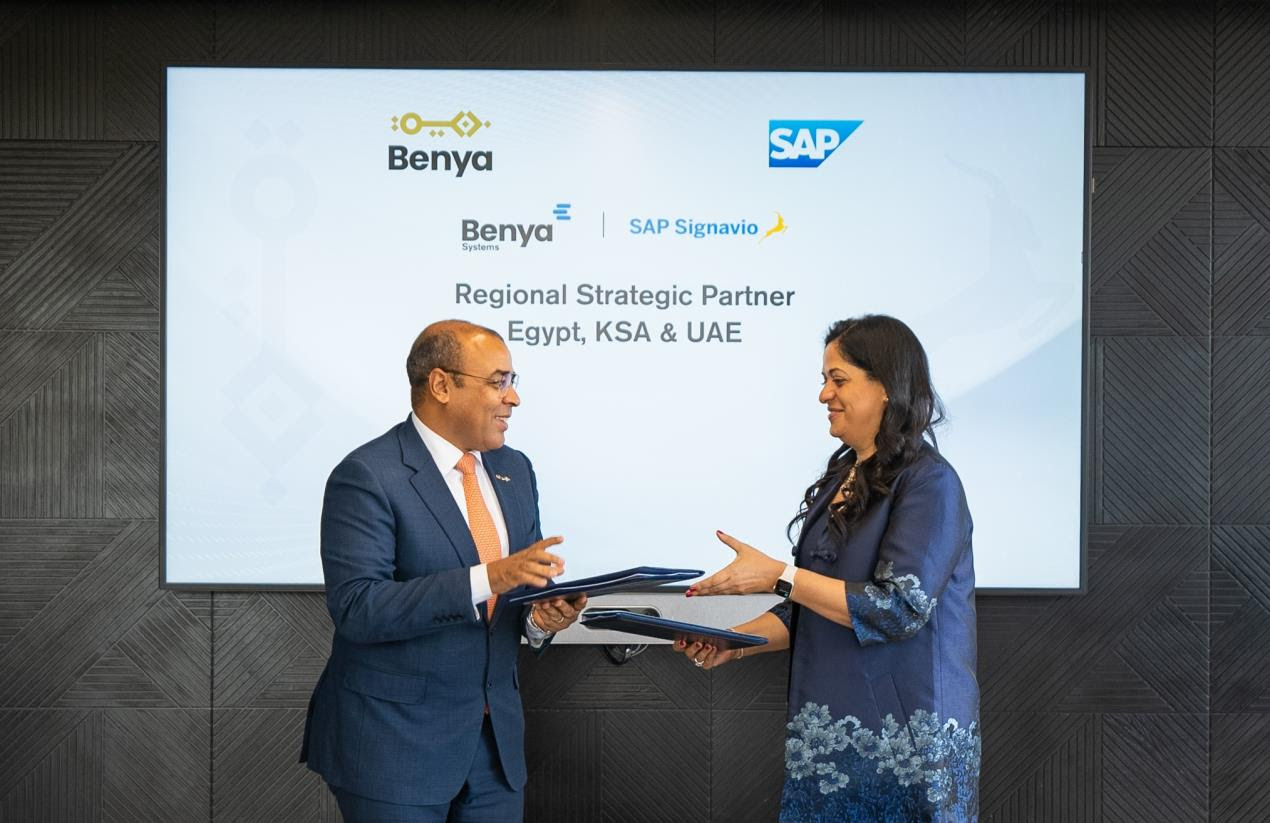 Cairo – March 28, 2023
In a significant step to boost digital transformation across the MEA region, Benya Group – the leading integrated solution, digital transformation, and ICT infrastructure provider in Egypt and the MEA region – has signed a strategic partnership with SAP – the global leader in business operation management software – to introduce SAP Signavio's smart digital transformation solutions in Egypt, KSA, and UAE.
The partnership was signed at the Benya Group's HQ in New Cairo, in the presence of Eng. Ahmed Mekky, Chairman and CEO of Benya Group, and Eng. Hoda Mansour, SVP and EMEA South Head of Business Process Transformation at SAP.
As a regional and strategic partner, Benya Group, through its subsidiaries Benya Systems and alfaBenya, will introduce SAP Signavio's smart digital transformation services in the Egyptian and Saudi markets direct. In the UAE, Benya Group will introduce the smart solutions through an alliance with strategic partners. Moreover, the company will leverage its extensive market experience in the banking, petroleum, healthcare, and industrial sectors to offer the latest technology solutions to clients across multiple countries. This partnership comes as a part of Benya's expansion strategy in the region and underscores its steadfast commitment to driving growth and innovation in the Egyptian and Arab markets.
"We are proud to be able to expand our strategic partnership with the global technology leader, SAP, and consider this a significant step towards delivering top-notch services to customers. This milestone follows our fruitful joint efforts in finalizing digital transformation for several public business sector companies, including more than 30 affiliates of the Holding Company for Metallurgical and Chemical Industries, as well as the water and sanitation sector," said Benya Group's Mekky. "We take pride in being an SAP partner. Our constant collaboration with SAP affirms Benya's ability to boost digitalization across businesses. We believe that this significant partnership will play a pivotal role in driving strategic projects that support the digital transformation plans in these countries. We are excited to embark on this journey and are confident that it will yield great results."
"This strategic partnership with Benya Group demonstrates our shared ambition to bring innovative digital solutions that will support digital transformation in Egypt, UAE and KSA. With its significant expertise and track record, we are confident that Benya will drive customer success through implementing solutions from SAP," said SAP's Mansour.
As a global market leader, SAP's smart digital transformation services target understanding, analysing, and enhancing business operations providing new insights that lead to effective consultations, ultimately driving growth and increasing revenues for organizations. Benya Group's partnership with global giant SAP strengthens sales of new SAP solutions in the region, capitalizing on Benya's position of influence in the markets in which it operates, and its expanding footprint in the Arab region, particularly in the Kingdom of Saudi Arabia and the United Arab Emirates, where Benya Group has been actively increasing its presence in recent times. This is a clear indication of the Group's unwavering commitment to remaining at the forefront of innovation and digital transformation, and its dedication to providing the best solutions to customers in the region.
-END-
About Benya Group
Benya Group is a leading integrated solution, digital transformation, and ICT infrastructure provider in Egypt and the MEA region. Through its advanced professional and institutional system, Benya group offers a rich package of products, services, and digital solutions covering the technological value chain on which developed countries and institutions depend. This package includes technical communication services and solutions related to information security, massive data, information platforms, design and implementation of integrated technological systems, and proactive technical solutions.