LDC KITCHEN + COFFEE HOSTS HABIBI-Q WITH HATTEM MATTAR
London Dairy Café team continue to roll out its LDC brand with an urban picnic popup in DIFC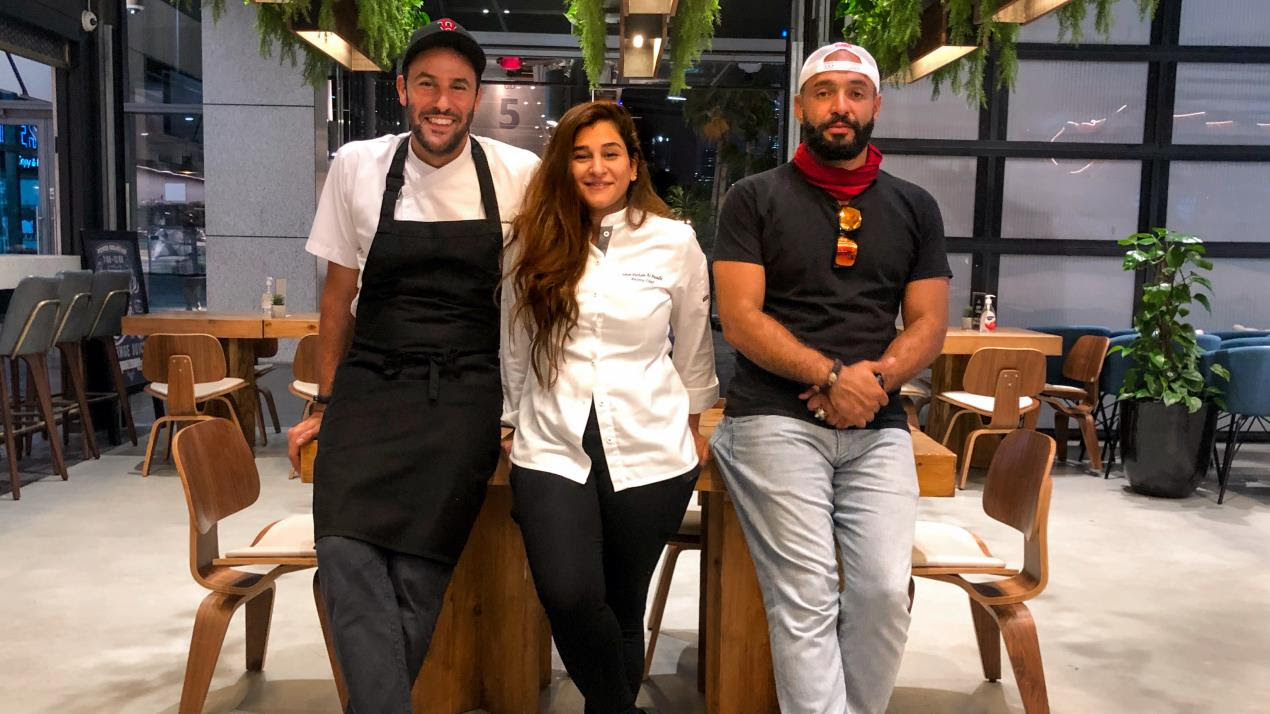 LDC Habibi-Q (L-R): Chef Omar Basiony, Sahar Parham Al Awadhi, Hattem Mattar
LDC KITCHEN + COFFEE HOSTS HABIBI-Q WITH HATTEM MATTAR
London Dairy Café team continue to roll out its LDC brand with an urban picnic popup in DIFC
March 03, 2021 – Dubai, UAE: Diners at DIFC's favorite eatery , London Dairy Bistro, are in for a surprise as it throws a picnic amongst the concrete jungle with Dubai's best pitmaster, Hattem Mattar. Taking place from the 11th to 13th March, the Habibi-Q is set to be one Insta-worthy event which will take over the DIFC terrace. Habibi-Q will showcase a traditional alfresco picnic set up, the tastiest smoked meats and other delightful treats.
Chef Omar Basiony of LDC and Hattem Mattar will be cooking up a storm at LDC kitchen + Coffee all weekend. The two culinary masters will be chopping it like it's hot, serving up a family-style selection of BBQ favourites along with LDC's spin on the classics. Complete with grass under your feet and gingham picnic blankets on the tables, it will tick the boxes of all of your BBQ dreams.
Featuring a cotton candy machine, pitchers of fresh homemade lemonade, a Sugargram cupcake cart and plenty of fun surprises, this event is going to be one tasty family affair. Taking place throughout the weekend from 12-6PM, reservations are encouraged, but walk-ins are also welcome.
Friday evening plans are sorted too as things will kick up a notch with the two chefs treating guests to a special tasting menu along with delectable desserts from everyone's favourite pastry chef, Sahar Parham Al Awadhi . Priced at AED250, guests can expect a FOMO-inducing menu with only the best smoked meats, the city's greatest brisket as well as unlimited sides and drinks.
Habibi-Q guests are also welcome to order items off the new LDC Kitchen + Coffee a la carte menu. In keeping with the new look and feel, LDC kitchen in DIFC is now home to a menu curated by Chef Omar as a tribute to all his favourite international dishes. Guests can enjoy unique takes on classics such as Aloo Naan flatbread, fried dough Vesuvio pizza and homemade pastas, to a trip to Asia with made-from-scratch Spicy Tantan Ramen , Kung Fu Chicken burger, Red Curry and even a Euro-trip through its Pan Roasted Salmon and Steak Frites.
Head down to Habibi-Q in DIFC for panoramic views of the Dubai skyline and picture-perfect alfresco dining, with a twist. It's going to be a grill'iant time.
LDC Kitchen + Coffee at DIFC is open seven days a week from 8am to 8pm.
Habibi-Q is open 11th, 12th and 13th March from 12pm to 6pm. Walk-ins are welcome for lunch throughout the weekend.
Tasting menu dinner is on 12th March at 8PM. Reservations is required.
For reservations please call: +971 55 554 5968
– ENDS –