Introducing BOMBAY BOROUGH at DIFC; A New Culinary Journey Across India
Brought to you by Charcoal Concepts, Dubai's newest all-day Indian bar and eatery officially opens its doors on February 1stat DIFC Gate Village 3.
Dubai (January 2020): A celebration of hyper-local Indian cuisine – Bombay Borough, which officially opens its doors at DIFC Gate Village 3 on February 1st, 2020, offers guests a carefully curated selection of India's unique ingredients, spices and flavours, reinvented. From small bites to large feasts, Bombay Borough's eclectic menu comes with a twist and enables armchair travellers to embark on a culinary adventure that serves up the very best of India, in a way they have never experienced before.
Discover the ideal space for everything from drinks after work to meals with friends and loved ones. Bombay Borough is Indian to the core, the epitome of the India of today and tomorrow, and the perfect place to rediscover India through an explosion of flavour. With a menu that sources Bhoot Jolokia from the North East, Aam Papad from Amritsar in the North West, pink salt from the Himalayas in the North, and some unique Podi Masalas from the South – Bombay Borough brings together rare flavours that aren't readily available globally.
The Food 
From Guntur Podi Chicken, Haleem Pate with Saffron Sheermal and Aam Papad Paneer, to Naga Ghost Pepper Wings and Panch Phoran Chargrilled Prawns, Bombay Borough's ingredient-focused small plates and grills make for great conversation fillers, allowing guests the opportunity to whet their appetites before the meal unfolds.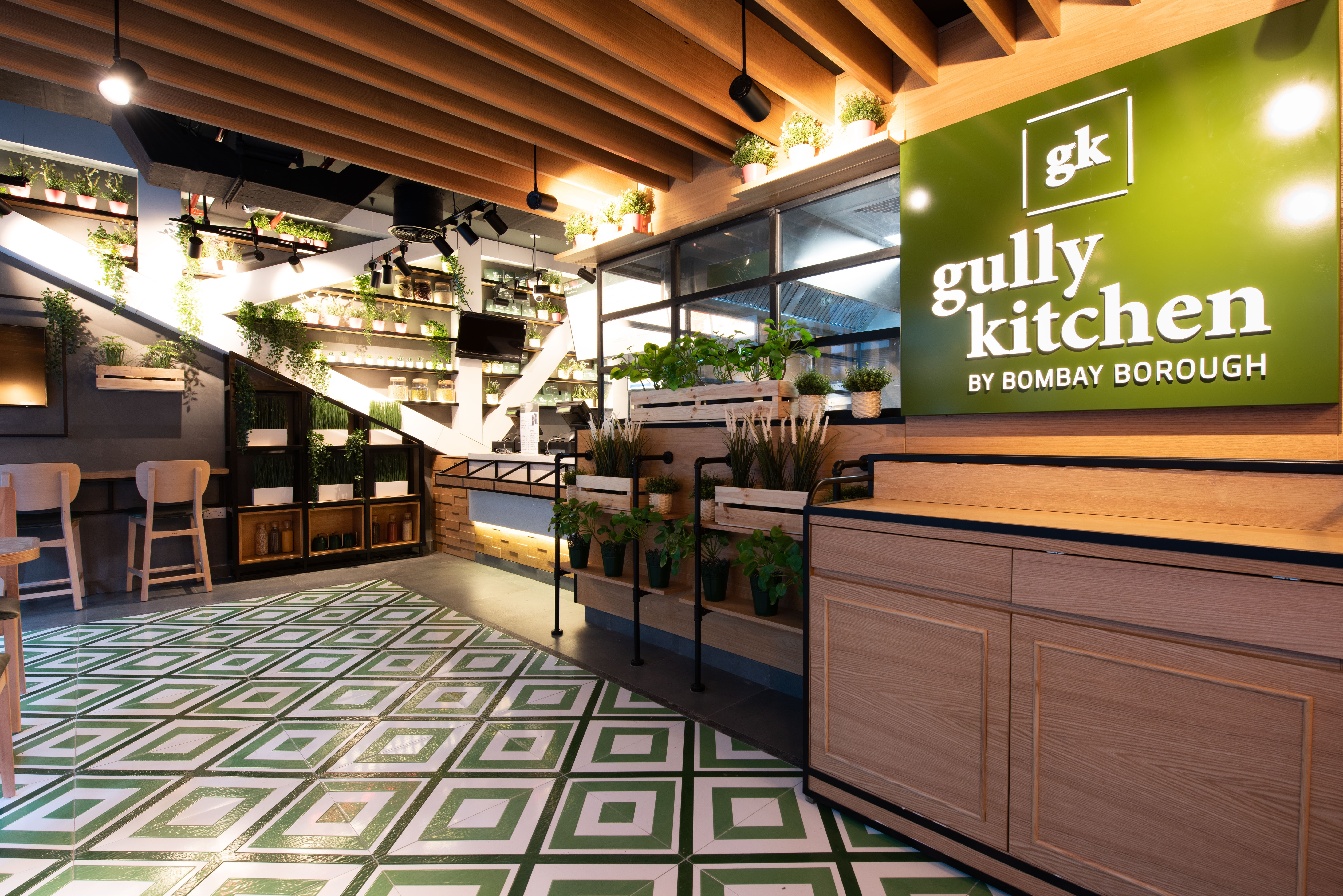 The Gully Kitchen
For those who want to experience fresh Indian food to go, The Gully Kitchen, Bombay Borough's fast-casual kitchen, offers Indian originals, alongside new interpretations, made from scratch. From gluten free Dosa Pockets to grab-and-go Biryani, expect some great options for the fast-paced DIFC crowd through the day.
High Chai
When the time is 'In Between', a time when most restaurants close to regroup for the next service, the moment is right for High Chai at Bombay Borough, where the doors are always open, ready to share vibrant stories and flavours from every corner of India.
The Bar 
The bar at Bombay Borough is a well-travelled one: a botanist-inspired space where old favourites, from a diverse range of cultures and countries, comfortably sit alongside refreshing new brews. With Desi cocktails that combine local Indian ingredients and killer Pauwa cocktails served up in local Bombay bar quarter 180ml bottles, paired with Chakhnas bar nibbles, as well as an extensive wine list, guests will find the ideal elixir to enjoy each evening after work or play.
The Space
Whether guests want to dine al fresco on the terrace or sample indoor comfort – Bombay Borough is a multi-layered space, spread over two floors, with options to suit everyone and inspirations from around India.
Find out more and check out Bombay Borough on:
Website: www.bombayborough.in
Facebook: Bombay Borough UAE 
Instagram: @bombayborough_uae