Hospitality Management Holding announces the launch of its Lifestyle brand ECOS Hotel
​Hospitality Management Holding (HMH), the region's largest hotel management company specialized in the dry sector and with an expanding portfolio across the Middle East and North Africa, announces the launch of ECOS Hotels to compliment the diversity of its existing portfolio, with the addition of a lifestyle brand.
Furthermore, a ceremony was held to mark the occasion at the brand's first hotel, ECOS Dubai Al Furjan Hotel, near Al Furjan Community, and in the presence of H.E. Sheikh Mohammed Bin Faisal Bin Sultan Al Qassimi – Managing Director-Faisal Holding. The ECOS Dubai Al Furjan Hotel is expected to open its doors to guests in Q3 2020.
ECOS Dubai Al Furjan Hotel, is a lifestyle property, with 321 rooms, and is planned to accommodate both the leisure, family, and business traveler. The hotel's smart and innovative design is coupled with state-of-the art infrastructure and offers a unique and memorable experience, enriched with an element of surprise for all its guests. The first ECOS hotel is strategically located in the Al Furjan community, approximately only 5 km away from the EXPO 2020 site, 24km away from Dubai International Airport, and 16 kilometers from Downtown Dubai.
On this occasion H.E. Sheikh Mohammed Bin Faisal Bin Sultan Al Qassimi- Chairman – Manafa and Managing Director-Faisal Holding (which owns HMH together with Manafa) said, "Announcing the launch of our lifestyle brand, ECOS Hotels, gives us immense pleasure to offer an innovative and experience lead hotel category designed for millennial-minded guests seeking a unique stay that is equally affordable. ECOS Hotels will be the benchmark for the hospitality sector across the region. This will rapidly materialize through the brand's first property, ECOS Dubai Al Furjan Hotel, that is scheduled to open its doors just in time to welcome guests from all over the world visiting us for the EXPO 2020."
Mr. Brett Schafer, Chief Executive Officer of Faisal Holding said, "The hospitality sector is moving towards an innovative and technology-driven offering. Investing in a new concept, and expanding our portfolio is something we are passionate about and we will always work towards improving and redefining our guests' hotel experiences. It also reinforces our commitment to steady growth across the Middle East & North Africa."
Mr. Aboudi Asali, Chief Executive Officer of HMH, for his part, said, "We look forward to ECOS Hotels brand becoming the go-to hotel for tech savvy travelers seeking style and comfort within in the city. The property in Al Furjan would be equipped with innovative technology, responding to a need in the hospitality sector in the Emirate."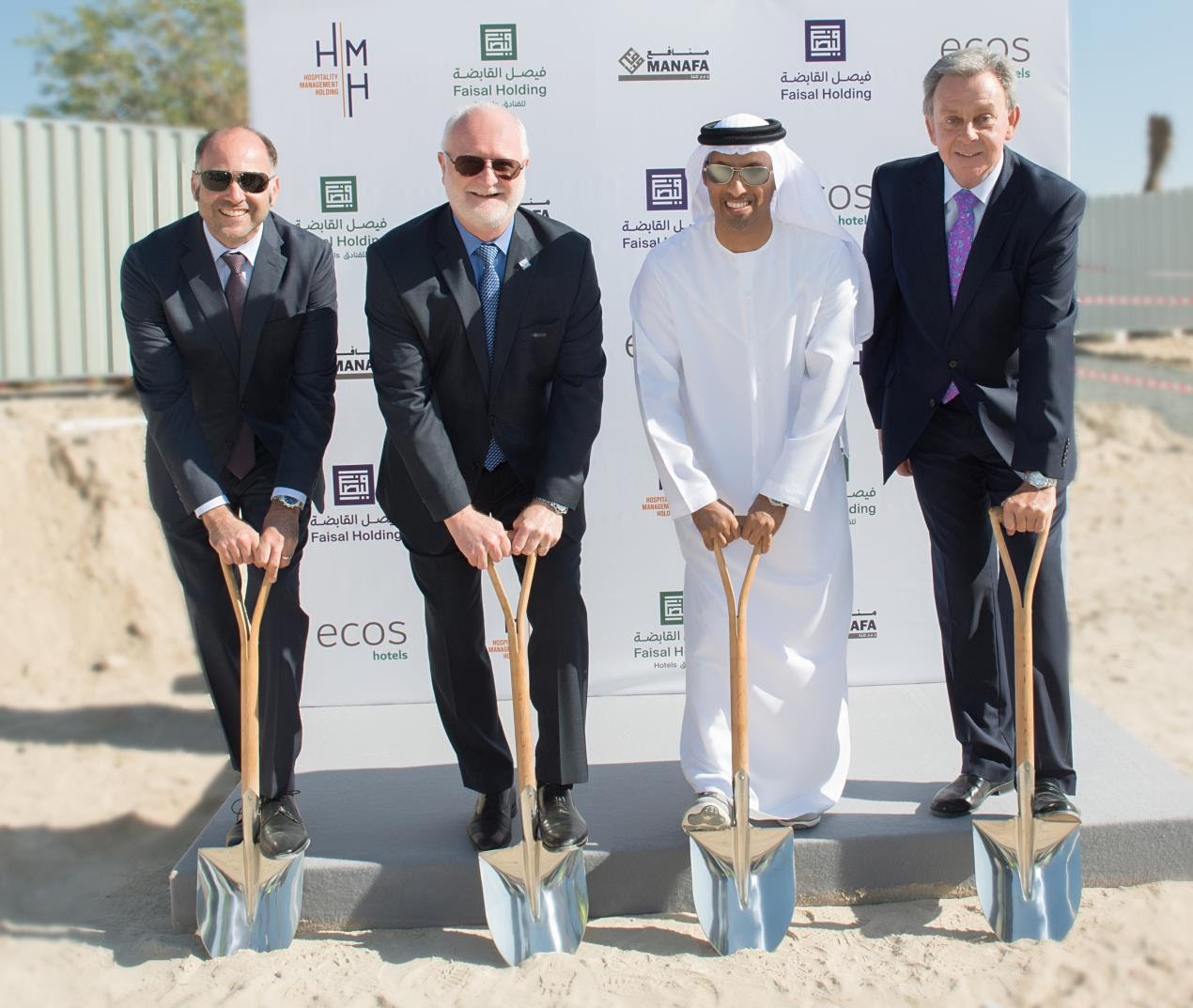 Founded in 2003 in Dubai, HMH – Hospitality Management Holding is a fully integrated hotel management company that prides itself for being the largest operator in the dry sector within the region. HMH provides hotel owners and developers a broad spectrum of world-class management solutions with five distinct, yet complementary, hotel brands catering to varied market segments from luxury to lifestyle. These include Bahi Hotels & Resorts, Coral Hotels & Resorts, Corp Hotels, EWA Hotel Apartments and ECOS Hotels. HMH's strategic expansion in the Middle East and North Africa has been successful in unlocking a world of opportunities while creating value for its stakeholders, associates, staff members and customers. The existing portfolio is located in some of the most desirable destinations across the MENA region, with a pipeline of hotels under development to grow HMH's regional footprint even further. For more information about HMH please visit http://www.hmhhotelgroup.com/https://www.hmhhotelgroup.com/subscribenow